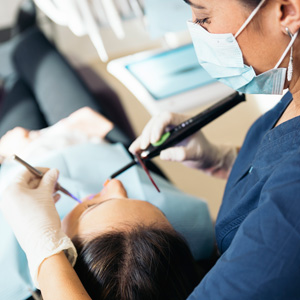 We are always asked about the difference between an orthodontist and a dentist. Many new
patients wonder why their dentist has referred them to us; on the other side, many of our
patients will ask us why we can't do their routine dental work.
The Role of a Dentist
Dentists are like your general doctor as they will diagnose, treat and manage your overall dental
needs, including gum issues, root canals, fillings, veneers and bridges, amongst other things.
Some dentists undergo a further three-year full-time university training to become orthodontists.
You may wonder if you still need to see your dentist while you're under our care. Yes, you do! It's necessary to keep your mouth clean and healthy. So while practicing good oral hygiene habits at home is critical, visiting your dentist twice a year for checkups is also essential.
Straightening Your Smile
Orthodontists are primarily concerned with teeth and jaw alignment, bite problems and straightening
teeth. Orthodontists treat both adults and children who need to improve their malocclusion (bad bite) or appearance of their teeth. We are pleased to offer our patients a variety of effective teeth-straightening options:
Ceramic braces
Incognito™ Hidden Braces
Invisalign®
Traditional orthodontic treatments
At MV Ortho, being orthodontic specialists, we always refer you back to your dentist for
your general dental needs. As an analogy, your heart specialist will send you back to your GP in
the first instance, if, for example, you need to have your diabetes monitored.
We desire to help you not only achieve a straighter smile but maintain excellent oral health for a lifetime!